Mac Connected to Wireless - No Connectivity
Posted by Wilamowski, Joshua on 25 April 2017 12:00 PM
If a user comes in and their Mac is getting an IP but no Internet Access then try the following:
From the Apple menu, select System Preferences.


Select Network. The window shown below appears.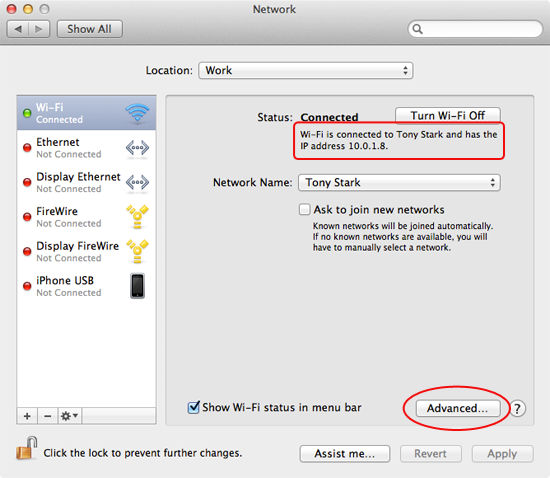 From the sidebar, select an active network interface. In this example, I'm connected to a wireless network, so I'll select Wi-Fi.


Make a note of the current IP address assigned to your Mac. You'll need to select a new IP address from within the private IP address range listed. More on that in a minute.


Click Advanced.


Select TCP/IP. The window shown below appears.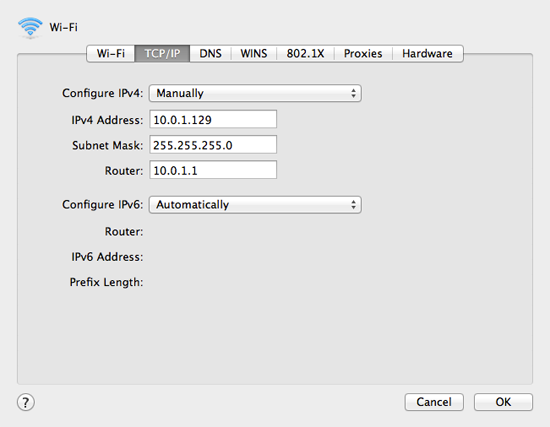 From the Configure IPv4 menu, select Manually.


Enter a static IP address in the IPv4 Address field. What number should you enter? One method is to take your current IP address and change the last part of the number. In this example, my current dynamically-assigned IP address was 10.0.1.8, so I picked 10.0.1.129. I could have picked any address between 10.0.1.0 and 10.0.1.255, as long as the address was not already assigned to another device.


Click OK.


Click Apply.
After that wait a minute or two and then set the the IPV4 to Automatic or via DHCP. Voila! It should be up and running.
---