Recall an Email in Outlook
Posted by Wilamowski, Joshua on 13 May 2015 01:23 PM
Recalling Emails from Outlook 2013 and 2010
Assuming we sent an email that we want to take back, here are the steps to follow in Outlook 2013 and 2010:
Fetch the email to be recalled from the Sent Items folder.

Open the email and at the Ribbon click on File.

This is what it looks like in Outlook 2013:

This is what it looks like in Outlook 2010:

From the Info category select
Resend or Recall | Recall This Message...

This opens the Recall Options dialog. Note that from here on the screenshots are taken from Outlook 2013. However exactly the same steps also apply to Outlook 2010.

Here we choose between deleting unread copies of the original message, or to both delete and replace the message. If we choose the latter, the original email opens up for us to edit and resubmit.

Lastly the checkbox at the bottom allows us to choose whether we want to receive notifications on the outcome of the recall request.

Clicking Ok at the Recall Options dialog, the recall request is submitted.
If notifications were requested, within a few minutes, WinDeveloper Message Recall returns a set of success/failure notifications. Here is what a success notification looks like:
Here is a failure notification: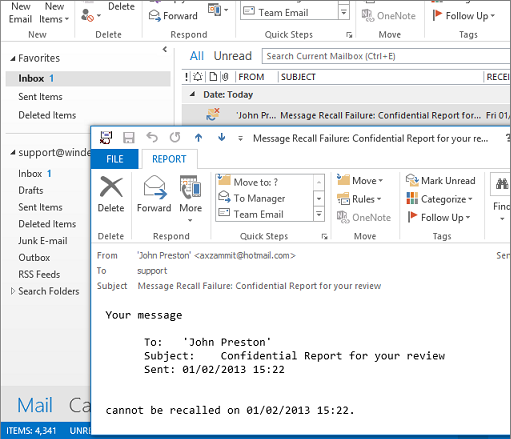 These notifications allow Outlook to build up tracking information that gets added to the original email at the Sent Items folder. To see this, open the original email from Sent Items. Next, at the Ribbon select Message | Show | Tracking: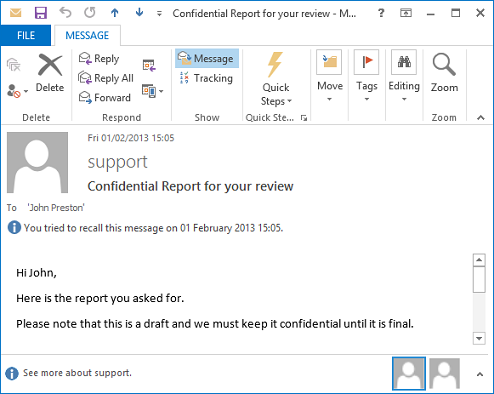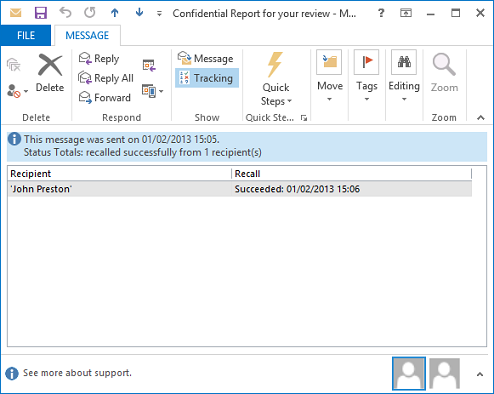 ---